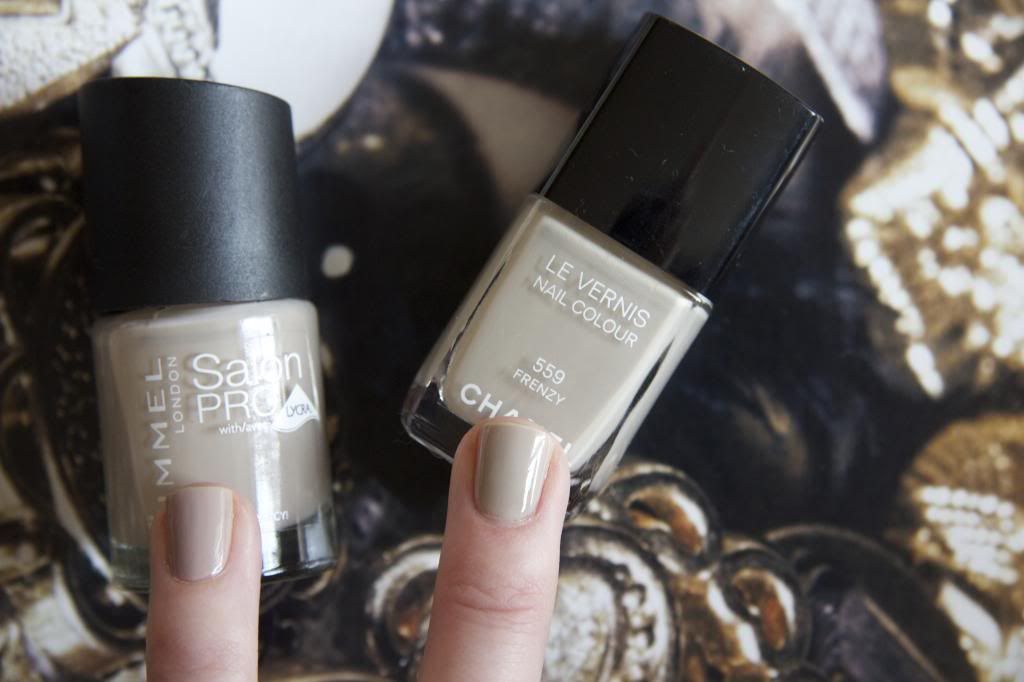 After a dalliance with pastels, I'm firmly back into my fallback of no-nonsense neutrals. Rimmel's Salon Pro Polish in Oh, Mr Darcy! – is my latest love. Heart fluttering description and kick-ass formulation and application aside, this colour got me thinking. Isn't it rather similar to an oft-raved about one from CHANEL. Who remembers Frenzy? I think the beauty blogging world went crazy for it around this time last year. In the bottle it was impossible to tell them apart so it was swatch time…
This is where things got interesting. Side by side in the bottle these two were talon twins, but on the nail there was a slight difference. Both dusky, taupe and with a barely there appearance, but the CHANEL leant more greeny in undertone, whereas the Rimmel came in more lilac. It wasn't a difference that bothered me and nor my boyfriend who completely failed a game of 'odd one out' after I painted nine digits with Oh, Mr Darcy! and one with Frenzy. The telling sign though came two days into wear when my sole layer of Frenzy suffered a severe chip and half the colour removed itself. The rest of my mani stayed intact though, and did so until about five days later. Impressive stuff.
To save yourself over £13 just for taking a tweak in undertone (CHANEL polishes come in at £18 and the Rimmel will take you back just £4.49), I'd suggest picking up Oh, Mr Darcy! for not just an upgrade in application but an upgrade in formula too.